Meet the Maker: Miigwan Feather Reine
Join us on an exploration of art as a form of therapy, with deep ties to the natural world and woman empowerment. These are the things that drive artist Miigwan Feather Reine to create stunning canvas masterpieces.
Can you provide a short introduction to yourself?
Miigwan Feather Reine is a 26-year-old award winning First Nations Artist who we had the pleasure of hosting at Nimmo Bay this summer. Her ancestry is Anishinaabe, Red River Métis, and Oglala Lakota Sioux from eastern Canada and the United States of America. Miigwan's ancestral name is Ogimaa Miigwan Ikwe, which translates into Boss Feather Woman. She fully embodies this name and so does her art.
How did your journey into creating art and painting unfold?
Miigwan Feathers' journey into art began when she was 17 years old and newly into recovery. She shared that she struggled in her early teens from the traumas around the effects of intergenerational trauma. What gives Miigwan Feather purpose are her passions; art, painting, beading, dancing, and mixed martial arts.
During the spring of this year, Nimmo Bay was honoured with watching Miigwan Feather bring her 8 years worth of beading regalia to life. We got to hear her story about how her culture saved her life and she finished with a dance of healing for herself and the collective at Nimmo Bay.
What kicked started her journey into painting was a portrait of Mother Earth that came to her which she put it down on paper. On a whim, Miigwan submitted it to the Truth and Reconciliation Commission as her portrayal of what a reconciled Canada looks like. With no intentions of growing as an artist or sharing the piece at the time, it was a shock when the reception to her art was so positive and started winning awards. The original Mother Earth piece can be found in the Government House in Alberta. She went on to create two more pieces in the Mother Earth series and you can see the series at Greater Victoria's Art Gallery.
What is the leading intention and inspiration behind the art that you create?
Miigwan Feather draws her inspiration from the natural world, but also pulls power from within herself. She's realized that art is a necessary form of therapy. At 10 years sober, "now I've found my true purpose and path in life. Art has been something to help heal me and to help heal me from trauma, and it gives me a different type of therapy to work with."
Her artwork not only helps with her own inner healing, but it's also a way for her to help others. With the Effects of colonization and the loss of cultural knowledge, for Miigwan Feather, art not only helps to heal her but it's a way for her to give her people their spirit back. It's also her way of educating and telling the stories of her people and ancestry, sharing it with the world.
What is your process for creating a new print/canvas?
Before starting a new creation, Miigwan will sit and ponder on what's important to her, but also what will speak to the hearts and souls of others. Sometimes these ideas come directly from a vision. Getting that vision onto paper can be a challenge on occasion. There are nerves that emerge as she tries to make the piece into exactly what she saw. Miigwan revisits teachings that play through her head during those moments of doubt. "I've had Indigenous mentor artists, guide me, and teach me about things. Sometimes the vision that you were given will turn out differently in the final painting". But the truth of the initial idea will always remain.
How does your surrounding environment / home influence what you paint and create?
A vast majority of the art that Miigwan Feather creates is providing a voice for Mother Earth, and the Matriarchy. She paints and portrays Turtle Island and the Anishinaabe creation story, so her pieces always draw inspiration from the natural world, or spirit world.
What is your medium of choice?
Paint on canvas is what Miigwan chooses to create with. The first few pieces that she created for the Mother Earth series were simply that, acrylic and paper. However, she's opening up to other materials as her creative journey grows. Her newer pieces have incorporated acrylic, sparkles, and glitter, whatever translates her soul and emotions onto the canvas.
Miigwan puts it best, "artists are trying to give people their spirits back and help to bring more light into this world through our gifts and influence the generations to come, so that we can change the planet one heart at a time". That's how Mother Earth, Turtle Island, this beautiful planet, should be represented through love.
How does your art inspire the wild within?
Miigwan Feather fully embodies the wild within, she lives like a free-spirit and runs with the wild horses.
"I like to be wild and not tamed in this society. I like to have my being connected to nature and Mother Earth. Just my true essence feels safe and secure in her."
Deep down, we're all drawn to the forest and feel a desire to walk freely into nature. In a world full of noise and business, the portrayal of the true natural world is what Miigwan's paintings will bring into your life.
What is the life that you dream for your canvases/prints?
In an ideal world, Miigwan Feather would love for her pieces to end up in everyone's home! When you really hone it on it though, her dream is that these pieces speak, empower, and inspire women. Her vision is to provide strength to their souls and have that essence flow through her paintings. When these pieces end up in people's homes, when it's up on the wall, they can feel the power and love emanating from the canvas that Miigwan has poured into them.
Indigenous communities are historically matriarchal, and Miigwan is expanding our current societal narrative to re-integrate women.
"They [society] don't talk much about Mother Earth and the woman and us as co-creators, our power, our strength, so that's why I am trying to do a more empowering and feminine line of art to remind the women of their power because we are Mother Earth."
Can you tell me a bit about the piece that you finished while at Nimmo?
Miigwan Feather finished her piece The Horse Spirit/Thy Queendom Come while she was up at Nimmo Bay during her time as an artist in residence. This painting came to her in a vision, and it was a surprise that she was being led to create it. The piece represents a Goddess Warrior Queen, whose extension is the Horse Spirit, and she's leading it from the Spirit World. These images hold strong meaning to Miigwan, as horses have helped carry her spirit and guide her through much of the trauma in her life. Horses were the only thing that helped her through the deep grief she experienced after her father passed away a few years ago. Her earliest memories with her Father were on the back of a horse. 
Miigwan explained that horses are of great significance to the First Nations people because of their warrior societies. She states that horses are kin to them. She was touched with emotion as we chatted about the connection between her people and horses. "We had our sacred wild horses since the beginning of time, before pre-contact. They've carried my people for 1000's of years. They've always been a part of who we are, they're the extension to us". Horses have continually showed up for Miigwan throughout her life, and she was destined to create this beautiful canvas representation of these sacred spiritual beings.
Shop the Miigwan Feather Collection
ANIAN's sustainable Canadian-made clothing line has been a long-time favourite of Nimmo Bay Resort's guests and staff alike. With a collection that's up to the test against the elements, yet stylis...
Read more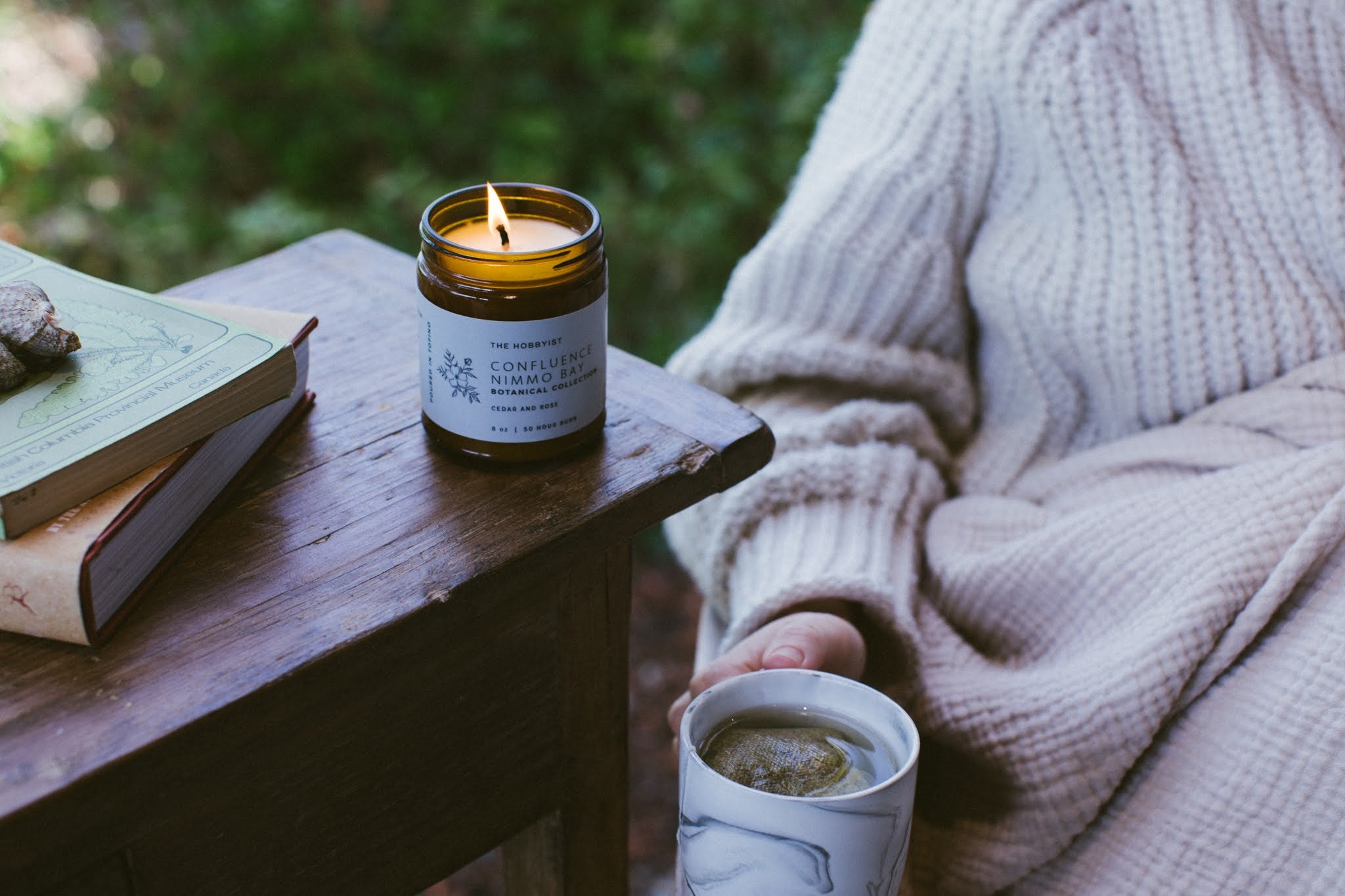 confluence
The Hobbyist products transport you straight to the east coast shorelines. We teamed up with Tamara Neale, founder and creative behind The Hobbyist, to craft a Nimmo Bay signature scent candle. Thi...
Read more