Meet the Maker: Forest Etiquette
Meet the new addition to our wellness lineup, Forest Etiquette. With a goal of combining traditional herbalism with natural actives, they make hero products with the best of both plant magic and science power. 
We asked founder Kristen Lambourne to tell her story. Kristen shares with us her passion for plants, natural actives, and inspiring self-care rituals, even on your toughest days.
Can you provide a short introduction to Forest Etiquette and your products?
Forest Etiquette was founded in 2019 by Kristen Lambourne on Vancouver Island. Forest Etiquette focuses on making hand-crafted natural, organic, and wildcrafted skin and self-care products.
How did the journey to starting Forest Etiquette unfold?
It started with Kristen's desire to weave her passions together. From growing up on a farm surrounded by greenery and animals, to her love of gardening and nutrition. It all led to a dedication to wildcrafting, plants, and herbalism. For those who are new to the term, wildcrafting is an alternative word for foraging. It felt like a natural progression to move toward creating skin and self-care products. So when Forest Etiquette was in its infancy, the first addictive challenge Kristen tackled was how to make the best possible bar of soap.
Who is the team behind Forest Etiquette?
Kristen is a one-woman business owner and maker. She's been running Forest Etiquette by herself since its inception in 2019. Between the creative side of the design and marketing, the business side of running a company, and the science of formulation, Kristen feels fulfilled with her hands in each element. "This is the first thing I found where I constantly feel like every day I'm challenged and excited about what I'm doing". As the business continues to grow, she knows the team will grow with it and hopes to be able to hire new staff and expand the production space.
What is the leading intention and inspiration behind the products you create?
Inspiration is constantly evolving for Kristen. At first, Forest Etiquette was the tangible outlet of her passions and knowledge base. In 2020, a year into the business, the pandemic hit and like most of us, she was spending more time outside going on hikes and foraging. That further boosted her inspiration to use foraged plants in the most meaningful way. She's also inspired to create products to help people understand the relationship they have with plants.
"I think plants have so much to offer us. Humans and plants have coevolved over quite a long period of time. I kind of feel like we all have it in us to understand their purpose and the relationship that we have with them."
Inspiration comes from fleeting moments too, like when she catches the distinct smell of a new plant, or discovers a new patch of growth. This will send Kristen down the rabbit hole of research into her next great ingredient.
How does your surrounding environment / home influence your brand and products?
The West Coast has a significant influence on Forest Etiquette. About 75-80% of the whole plants that Kristen uses in her products are either locally grown and harvested or wildcrafted on Vancouver Island. Like dandelion, chamomile, yarrow, cedar, and stinging nettle.
How do you choose what plants to use? What is the method for creating and choosing plants/ingredients?
What's growing locally is an essential determinant of what plants are used at Forest Etiquette. It's important for Kristen to have her hands in all stages of a plant's lifecycle from growth, to harvesting, to drying, and then into the oil, cream, salt, or scrub that she's making.
"There's just such a difference in being able to crush something between your fingers and know what it smells like, what it does, and how it works and how it grows and where it grew."
Kristen explains that you could source from a local organic wholesaler, but have no idea if those plants are fresh, if they've been sitting in a warehouse for a season, or how they were dried. By being involved in the whole process, she knows the exact potency of the plants that she's adding into her products. The level of potency is much greater when she's harvesting the beautiful chamomile growing in her back garden and processing it immediately. Therefore, creating an even better and more luxurious product for her customers to use.
Once Kristen selects a plant, she engages massive amounts of time into researching the ingredient and testing. What does it do? How does it work? Is it safe? Does it work for most people or all people? The next step is researching what other plants will play well together. Only then will a base product start to form in Kristen's mind. The lifecycle of creating a product could take anywhere from a few months, or it could take several years to perfect.
What is a natural active?
Kristen uses natural actives in many of the Forest Etiquette products. A natural active is something like an essential nutrient or chemical compound that naturally occurs in either our skin or in our world that has been tested in a lab. These ingredients go through rigorous testing to prove the benefits of the ingredient are true. An example of this is niacinamide, a form of vitamin B-3. It has been proven to improve hydration, even skin tone, and support your skins microbiome. Kristen loves to pair a natural active ingredient like niacinamide with yarrow, oat straw, calendula, plants that are soothing and gentle on the skin. By combining natural actives with wildcrafted plants, you've got a potent combination.
Where did you learn about plant benefits?
The passion for research that Kristen possesses is evident when chatting with her. She's entirely self-taught when it comes to plant science. This doesn't mean she places any less importance on putting in the work to understand the ingredients she loves and works with on a daily basis.
"I think there's something to be said, for working without the container of an education because then you aren't as bound to the same rules or expectations that could be instilled in you through that process of learning. You get to define your own container."
Tell us how you embody the principles of sustainability? 
Sustainability is woven into Forest Etiquette from start to finish. It starts with Kristen's wildcrafting; she never takes more than she needs. She's also an advocate that anyone who starts foraging should understand what it means to be a steward of the landscape and understand that we have a reciprocal relationship with our environment. As the business grows, it's Kristen's goal to have her own piece of land, beyond her backyard, dedicated to growing plants. It will allow her to rely even less on wildcrafting. Additionally, the packaging for Forest Etiquette products are glass and recyclable. They even offer a program for returning the glass jars, which are sterilized and given another life as a new product. All shipping materials are biodegradable, recyclable, or compostable. It's an easy decision for Kristen, as there are many options available that eliminate the need for plastic and styrofoam to ever be used.
How does Forest Etiquette inspire the wild within and connect people to place?
Before a Forest Etiquette product can connect people to place, it first must connect people to themselves. "My hope is they give people a deeper connection with themselves. That's sort of our first place, inside of ourselves or with ourselves". Once you've established that connection within, you're able to go beyond and connect with the plants in your local environment. For example, when you're using a product with nettle in it, you're aware of that plant and it's benefits, and it's a full circle moment when you're out for a hike and you see a thriving nettle plant and can acknowledge it.
"When we start to understand how to care for ourselves and not take ourselves for granted, we're going to inevitably do the same in our homes, in our relationships, in our environments, in the world."
What is the life that you dream for your products? Where would they live, what would they do, would they get used every day or on special occasions?
Kristen says it best, as her "hope is just that these products will inspire people to keep showing up for themselves even when they don't feel quite as inspired to doing so". She wants her products to spark and sustain little rituals of self-care in your everyday life. In those times when it feels challenging to show up for yourself, your Forest Etiquette products are something that you can still lean on, even if it's just 5 minutes once a day.
What is one final thing that you want people to know?
It's all about connection and building relationships for Kristen. She highlights that it's one of the best benefits of buying from a smaller business. It's a true joy to receive messages from customers and followers, so "ask questions about it [products/business] and never be afraid to message or email the Creator, especially when it's a smaller business". Talking about ingredients, plants, and skincare are things that bring her true joy.
Stay tuned for our custom collaboration with Forest Etiquette, coming soon.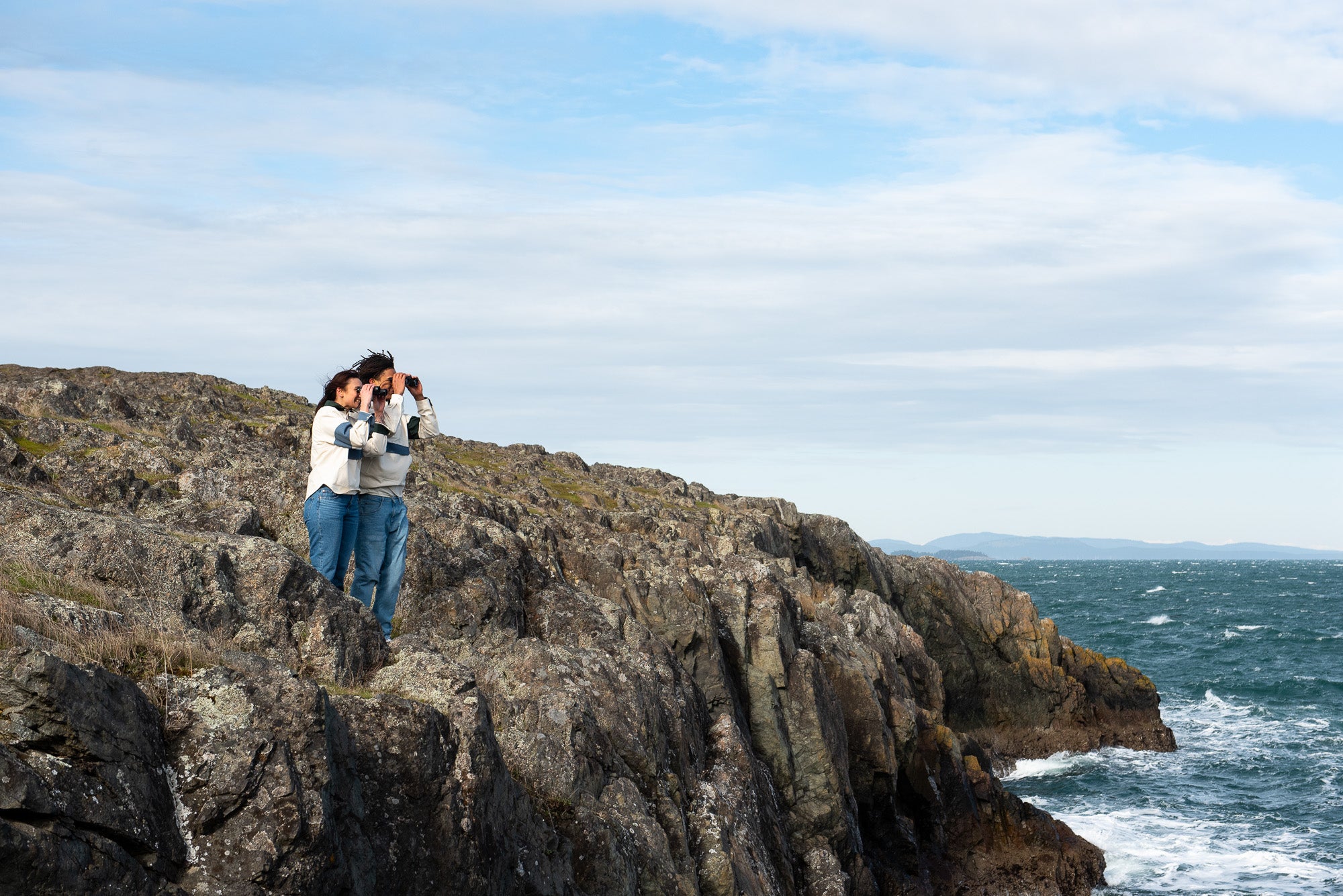 Timeless, classic, wearable for every single kind of adventure, these are the words we use to describe the brand-new Upper Form Regatta Shirt. Put on one of these custom-made shirts in our Nimmo Ba...
Read more