MEET THE MAKER: FAIRECHILD
Rainy days at Nimmo Bay can show off the most beautiful expressions of the rainforest. To enjoy these atmospheric days to their fullest, a good raincoat is an essential piece of clothing in the adventure arsenal. It needs to keep you dry, be breathable, and have space for layering.
To fulfill this desire we partnered with our friends at fairechild to create an exclusive rainjacket, the Nimmo Bay Cabin Coat.
We chatted with fairechild Founder and CEO, Tabitha Osler who shared with us what makes the brand so special!
Can you provide a short introduction to fairechild and what products you make?
fairechild is a Canadian fashion brand for children and adults that's committed to Mother Earth, as all of our products are designed in Nova Scotia and made sustainably with recycled materials. Our garments are timeless, featuring heritage details like solid brass snaps and woven chord. fairechild outerwear is also 100% waterproof, breathable, durable, adjustable and machine washable for a lifetime of adventure.
How did the journey to starting fairechild unfold?
fairechild was born in 2017 as a response to the wastefulness that I saw, while working for luxury designers in Europe and Canada. I wanted to create products that support a deeper connection to the nature, not its devastation.
Who is the team behind fairechild?
I'm Tabitha Osler, the Founder and CEO of fairechild. I'm a mother and ethical fashion designer from Halifax with a sustainable vision. I received my Masters in Fashion Design from the Antwerp Royal Fashion Academy and then worked for high-end brands, before starting my own business in 2017.
fairechild is operated entirely by women, many of whom are mothers. We believe it's important to support our community and we put family first. Our unique perspective as an all-female team is a source of strength, as we draw from our unique experiences and combined knowledge to design meaningful products.
We collaborate with ethical manufacturers in Germany to create our fabric, the Adult Collection is made in Nova Scotia and the Children's collection is sewn in Poland.
What is the inspiration behind the products that you create?
fairechild garments are to be lovingly passed down, so we design for a timeless wardrobe. The silhouettes often draw from the past, using heritage details and inspiration from minimalist, contemporary art.
How does your surrounding environment / home influence your brand and products?
Our colour palette is a celebration of the natural world that I encounter, while having adventures with my three children. fairechild designs honour the East Coast, as they're inspired by nautical outerwear and the local landscape: the vast beaches, rolling hills and dense forests surrounding Halifax.
Tell us how you embody the principles of sustainability? What makes your product ethical? (the circular economy etc.)
Our garments are eco-friendly and designed in Canada, using a small-batch approach to production that reduces overstock. We work with innovative German manufacturers to create our sustainable fabric, a high-performance textile called Sympatex that's made from 100% recycled plastic bottles. We use recycled brass and thread, the snaps have an eco-friendly coating and our finishing details are sustainably sourced in Europe. The production process is also more ecological, using 60% less energy and 94% less water, compared to oil-based polymers. Our recycled fabric is both PTFE-free and PFC-free and it's made of only three elements (oxygen, carbon, and hydrogen), so it poses no health risks.
fairechild is OEKO-TEX certified, a standard that's higher than government regulations, ensuring the garments are free of harmful chemicals. We're approved by bluesign, a sustainability standard that ensures the lifecycle of our products and guarantees the highest level of consumer safety. Our products align with the Global Recycle Standard as well, which verifies our use of recycled materials.
Unlike many outerwear brands, our garments are also themselves recyclable! After many years of loving wear, fairechild products can be returned though our Recycling Program to ensure the materials are reused. It's our mission to ensure a happy planet for future generations.
How does fairechild inspire the wild within and connect people to place?
fairechild products are designed for rugged exploration. They're waterproof, breathable, durable and tick-proof, so you can enjoy boundless adventures in the wilderness.
We also design for both children and adults to encourage more intimate play, as you can run, climb and roll around together, knowing that the next puddle you encounter won't dampen the fun. fairechild garments are meant to support a deeper connection to nature in hope of inspiring environmental stewardship.
What is the life that you dream for your products? Where would they live, what would they do, are they exclusive for a rainy day?
fairechild outerwear is designed for all seasons, no matter the weather. Our lightweight garments are ideal for puddle jumping, but also offer sun protection at the beach, reduce bug bites on a hike and with under layers, can be worn to build snow forts.
How did Confluence and fairechild connect to create this Cabin Coat?
Jillian Harris from The Jilly Box wore fairechild (The Chore Coat and Adult Dungarees) during a visit to Nimmo Bay. She shared her experience on Instagram and tagged us. When Becky [Murray] from your resort learned about fairechild, she got in touch about a potential collaboration.
The creative process was a great experience, as Becky has a wonderful eye for design. She sketched her ideas, sent inspiration and we shared our vision for the coat. Multiple samples were made to ensure the design was perfect.
What was the intention behind the design of the Cabin Coat? What makes it unique?
This design is close to our hearts. It's a timeless coat that's waterproof, featuring woven matte fabric that transitions from work to weekend adventures. The sleeves elegantly cuff up to 10cm and there's an internal chest pocket for your cellphone. The large outside pockets have storm flaps for protection and there are hidden side pockets to tuck your hands. We also chose the Red Oak colour, because it's beautiful year round and compliments the palette of your local wilderness at Nimmo Bay.
Shop the fairechild x Nimmo Bay Cabin Coat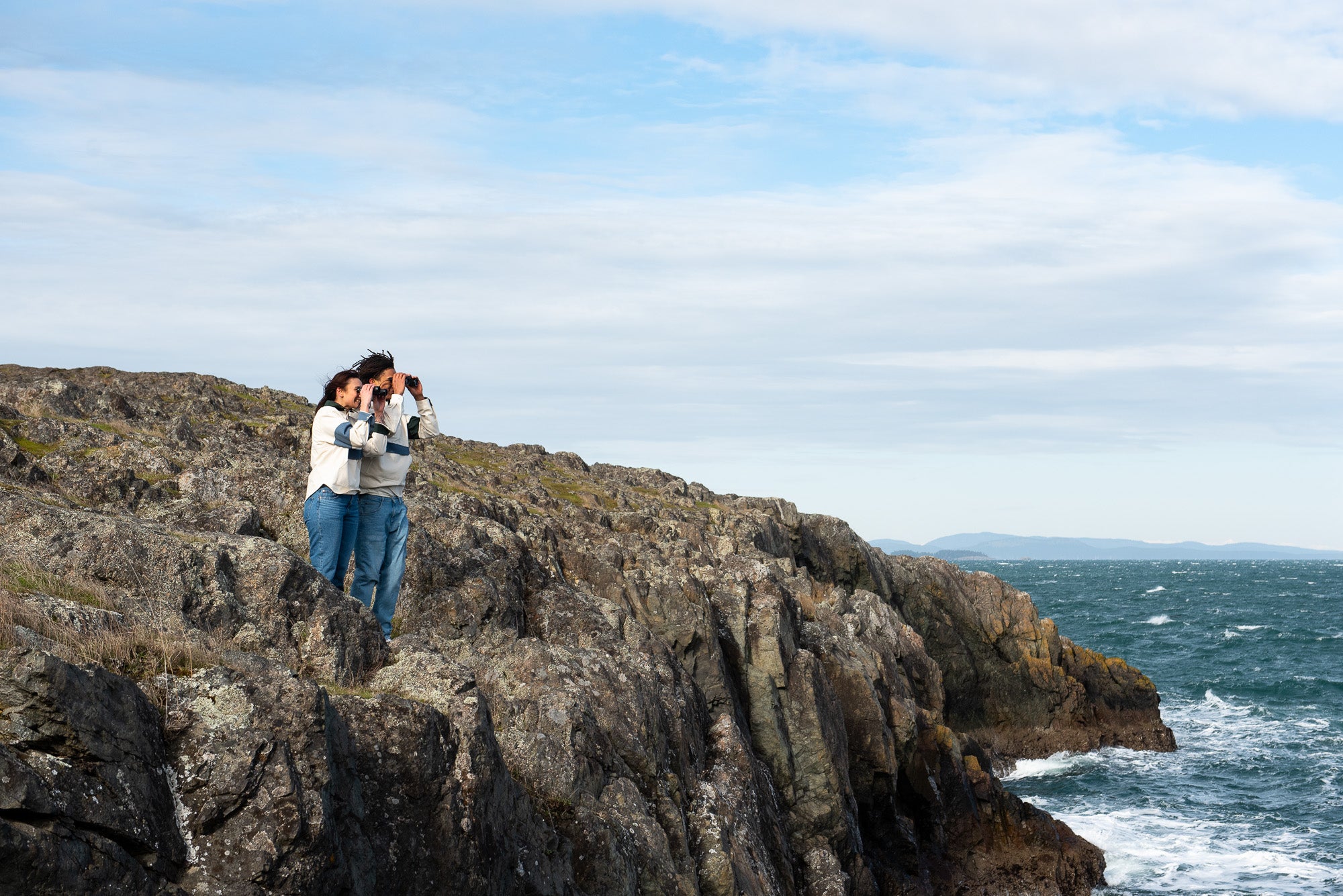 Timeless, classic, wearable for every single kind of adventure, these are the words we use to describe the brand-new Upper Form Regatta Shirt. Put on one of these custom-made shirts in our Nimmo Ba...
Read more
ANIAN's sustainable Canadian-made clothing line has been a long-time favourite of Nimmo Bay Resort's guests and staff alike. With a collection that's up to the test against the elements, yet stylis...
Read more