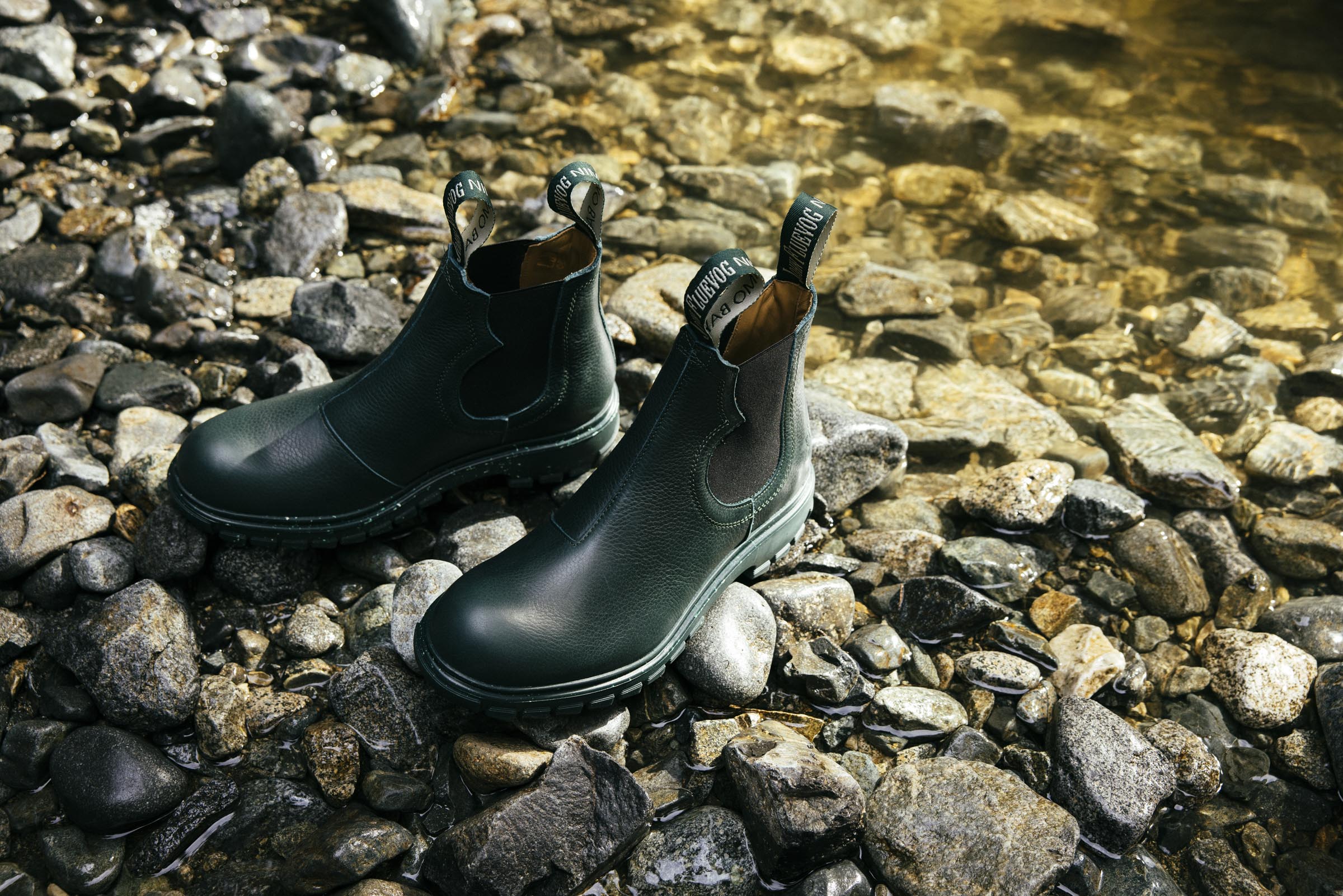 Meet the Maker: Fluevog
Introducing the Fluevog x Nimmo Bay Thursday Everyday Chelsea Boot! After two years of dreaming, planning, and creating, you can now purchase your very own pair of shoes from this custom collaboration.
Nimmo Bay worked closely with Fluevog to capture the essence of the Great Bear Rainforest in this boot. Founder and Designer John Fluevog visited Nimmo Bay during the Spring of 2022 to gather inspiration, to meet the team, and experience the wild within.
John shared with us some of his musings, favourite memories from the trip, and insights into the unique world of Fluevog.
How did Fluevog get connected with Nimmo Bay?
I was familiar with Nimmo Bay as many people are, due to its beauty and reputation. A few years ago Fluevog started doing some amazing collaborations with ANIÁN and at that time, Co-Owner and Designer, Paul Long over there introduced us. This was the start of our incredible collaboration.
What makes Nimmo Bay and Fluevog such good collaborative partners?
The pairing might seem strange at first but when you look closely, that's not really so. We are both working in the world of style — maybe at different arenas but style nonetheless. Everything Nimmo Bay does is with careful attention to quality, impact, and style and I would argue the same goes for Fluevog.
Tell us about your trip to Nimmo Bay in 2022
I for sure will not be able to do it justice — I found it breathtaking but in a calming way, if that makes sense. I'm so thankful for what we saw, how we felt, and who we met while we were there… and actually the weather (this was in March) was absolutely stunning.
Everyone flew out of Port Hardy on Vancouver Island, in a bright red Grumman G-21 Goose. OK, so what's not to love about flying into the wilderness on one of the few massive amphibious airplanes still functioning?! It was just such a treat!
We were there just before their season started, and actually that would still be my preference if we were ever to go back. It's a special time of year when only team members are on site, preparing for the upcoming guest arrivals. We were able to meet and enjoy and share meals with family members, staff, and Irvin Speck… It was perfectly intimate in the most beautiful setting.
One of the most memorable moments of the trip was catching what felt like a million prawns out on the boat and eating them all on the beach (and maybe we ate a couple on the boat too).
What inspired you most on your trip to Nimmo Bay?
Obviously, the nature and setting is stunning, but also I was so inspired by how the attention to detail was so sharp… in such a remote place, that is almost an impossible feat. Nimmo Bay is a place of perfect juxtaposition, where wilderness meets refined elegance.
What was the inspiration behind the Nimmo Bay collaborative shoe?
I have been doing a shoe for a few years now that is meant for anyone, and for doing almost anything. The shoe family is called The Officials, the do-it-all's. It's a perfect shoe for Nimmo Bay because it's the ideal combination of stylish comfort that works in a remote place and still looks good. These boots will be walking up and down the docks of Nimmo Bay for years and years to come.
What are the unique elements on the Nimmo Bay shoe?
There are a lot of great features on this boot. It has custom brand elements like the Nimmo Bay and John Fluevog pull tab and insole. As well as the EcoRubber sole that's made from 70% recycled materials with visible flecks of overage rubber. They're made in Portugal at one of the small family-run factories that I've been working with for what seems like forever.
Can you provide a short introduction to Fluevog Shoes?
I can tell you that we make Unique Soles for Unique Souls. Fluevog is a company with a 50-year long history, and in that half a century, we've built an iconic brand. If this is the first time you're hearing of the brand, you won't soon forget the funky, out of the box, edgy footwear they create.
How did the journey to starting Fluevog unfold?
Again, it's a very long story, but we've got a book that details it much better than I could here. In a nutshell, I got a job at a shoe store.
Their founder and designer, who has shared these answers with us, John Fluevog, started the company in Vancouver, Canada, back in the 70's, when he began as a partner in a shoe store, Fox and Fluevog. Their styles went against the mainstream and found a special community of people who loved them. He launched into the solo venture as John Fluevog Shoes in the 80's, ready to innovate, and has continued to design and traditionally make the untraditional ever since.
What is your process for creating new pieces?
Honestly, ideas started popping into my head 53 years ago, and I pay attention to the ones that refuse to pipe down!
How does your surrounding environment/home influence your brand and products?
I spend a lot of time in my own head, but yes it would be silly of me to think that my environment and surroundings don't have a mostly unconscious impact on my thoughts. But also, clean air and nature is vitally important.
How does Fluevog inspire the wild within and connect people to place?
All I know is that Fluevogs connect to the souls of many people… I see this every time that I visit stores and host events.
Tell us how you embody the principles of sustainability?
We can all get better in that regard and I'm no different, but we've always stood by the concept of Buy Better, Buy Less. It's my goal to create products that have style, yes, and are comfortable, yes, but that also last. We're making sure that there is less of an impact long term. It's also why we started the FlueMarket, so shoes that still have life in them can go to other Fluevogers to enjoy and give the product a second or a third life.
What is the life that you dream of for the shoes you create?
I like to think that Fluevogs take you to another world… call it Vogville… a world away from the humdrum of everyday living. A place where you can be yourself, and express yourself while celebrating the beauty that surrounds you.
Shop this exclusive collaboration and get your very own pair of Fluevog x Nimmo Bay Thursday Everyday Chelsea Boots.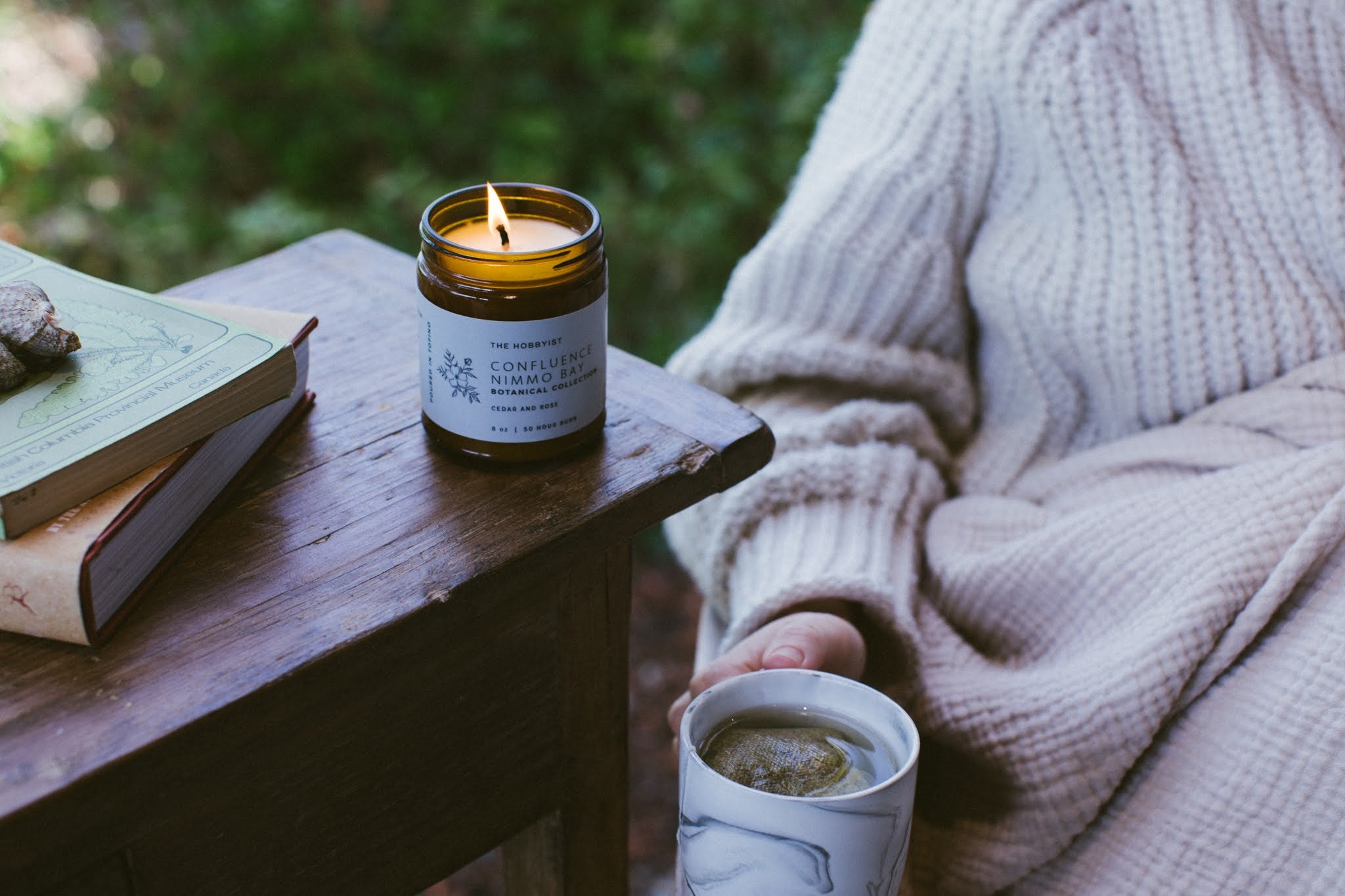 confluence
The Hobbyist products transport you straight to the east coast shorelines. We teamed up with Tamara Neale, founder and creative behind The Hobbyist, to craft a Nimmo Bay signature scent candle. Thi...
Read more
artist
Meet Diane Rudge, a fiber and textile artist based in Ucluelet, a small town on Vancouver Island. Join us on an exploration of artistic passions and climate consciousness, as she transforms wool in...
Read more