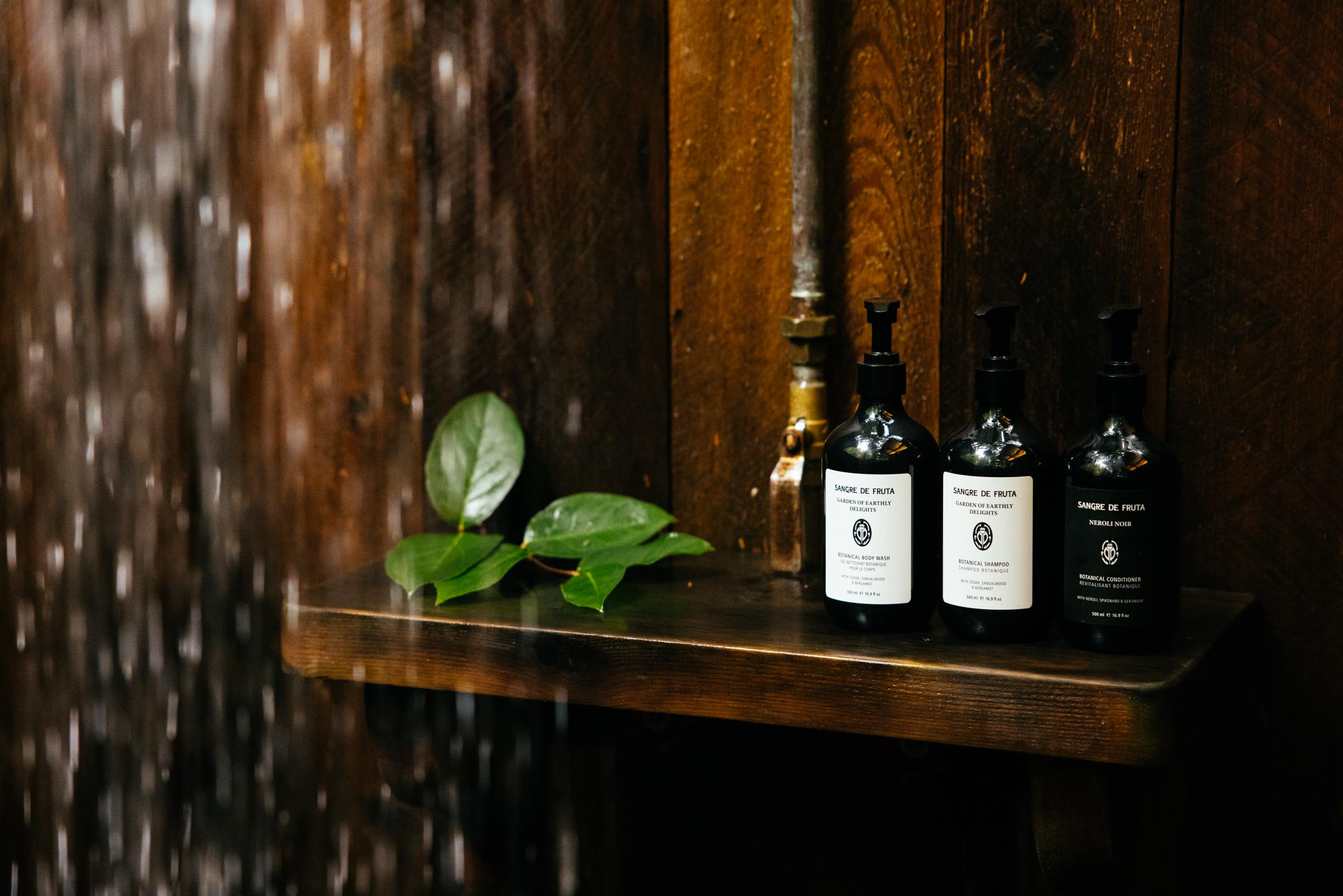 MEET THE MAKER: SANGRE DE FRUTA'S ALLISON AUDREY WELDON
From their studio on beautiful Bowen Island, Sangre de Fruta crafts luxurious beauty products made with pure botanicals. At Nimmo Bay Resort, guests are treated to the brand's botanical shampoo, conditioner, body wash and lotion, each scented with essential oils that evoke the forest all around. 
We asked founder Allison Audrey Weldon to share her story. Allison tells us about  the ancient inspiration behind her products, and discusses the power of ritual to connect people with the natural world.
Can you provide a short introduction to Sangre de Fruta and your products?
Meaning the "Blood of Fruit" in Spanish, the name Sangre de Fruta comes from a Pablo Neruda love sonnet that helped inspire my journey to create potions made from the fruit of the earth. Our body, hair and skin care products are formulated with 100% botanical ingredients and handcrafted in small batches off the west coast of Canada.
How did the journey to starting Sangre de Fruta unfold?
I started Sangre de Fruta after years of making small-batch creams and lotions with my friend Elena Orrego, the former owner of Vancouver's first apothecary Gaia Gardens. Under her tutelage, I learned the art of mixing precious oils and saw an opportunity to use my love of botanicals and my background in fashion and design to create a brand with sensual, wildcrafted formulas for the luxury market.
What is the leading intention and inspiration behind the products you create?
The leading intention of Sangre de Fruta is to share the secrets of holistic indulgences and the power of rituals. I was inspired by the ancient beauty remedies of the past—for example, I adore how Cleopatra applied essential oils and botanical butters to her skin for protection from the elements and for sensual indulgence. Our brand believes daily rituals and mindfulness are fundamental elements for true self care, and with that, we gain a deeper appreciation for the quiet power of the natural world.
How does your surrounding environment / home influence your brand and products?
Living on Bowen Island has allowed me to live more in-line with my values and it's doing the same for Sangre de Fruta. It feels so natural with the connection to the community and nature around us to keep growing sustainably and with accountability for everything we do. Many of our botanical ingredients come from communities close to home, including our island grown immortelle and lavender from Lavender & Black Farm on Salt Spring Island. Our studio on Bowen Island allows us to take the time and care to create products that offer the opportunity to connect to the senses and the earth.
Tell us how you embody the principles of sustainability? 
One of Sangre de Fruta's key values is sustainability. All of our products are organic, gluten-free, cruelty-free and GMO-free. That means no synthetic ingredients or fillers. Every scent is a blend of essential oils. In July 2021, we proudly released our Refill Collection—1-litre eco-refill pouches in our best-selling products offering mindful formulations for the body and planet. Our goal is to continue learning about new ways to support the care of our planet and sharing Mother Earth's delicious ingredients with our audience.
How does Sangre de Fruta inspire the wild within and connect people to place?
Sangre de Fruta invites connection—whether that be to yourself or the wonderful, wild natural world. I wanted to create a product range that was more exquisite and precious than anything on the market; products that would help people feel joy, pleasure and connect to themselves and the world around them. Our handcrafted products encourage the sensual experience of layering formulas onto the skin. The ingredients have always intrigued me most: the history, the scents, the different aromatherapy properties. Scent has such a powerful connection to memory and place, and for me, it's also a form of meditation and a way to connect to the earth. It's healing when you find a product that grounds or transports you. I hope treating your skin to nature's finest luxuries and engaging with your senses will offer a bit more beauty in your world. The magic is when nature talks to us, and we listen.
What is the life that you dream for your products? Where would they live, what would they do, would they get used every day or on special occasions?
The life I dream for Sangre de Fruta is one of everyday indulgence. I see our botanical products being used everyday as part of daily rituals and moments of mindfulness. For me, the idea of celebrating and enjoying the richness in life is beautiful and I want people to treat themselves when they open one of our jars. I think we can all agree there is nothing more beautiful than a person who allows themselves those simple things! My goal has and will always be to create a sensual realm.